Everton sold to American investment fund
- 6 minutes read
---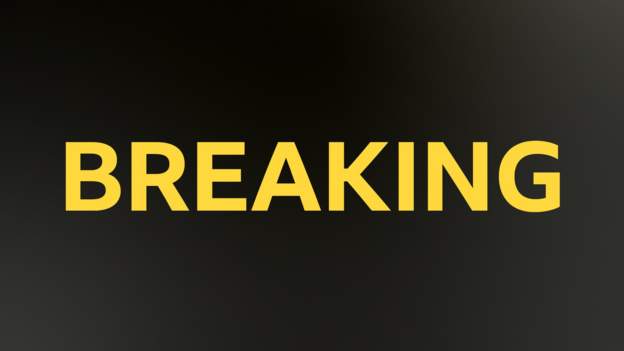 Michael Brown looks at the on-pitch issues at Everton
Premier League club Everton are set to have new owners after Farhad Moshiri agreed to sell his 94% stake to American investment fund 777 Partners.
The takeover would bring to an end the tumultuous tenure of British-Iranian Moshiri, who first invested in 2016.
The sale is expected to be completed by the end of 2023, subject to Premier League, Football Association and Financial Conduct Authority approval.
The takeover would mean half of the 20 top-flight clubs are American-owned.
Moshiri said in a statement: "The nature of ownership and financing of top football clubs has changed immeasurably since I first invested in Everton over seven years ago.
"The days of an owner/benefactor are seemingly out of reach for most, and the biggest clubs are now typically owned by well-resourced private equity firms, specialist sports investors or state-backed companies and funds."
Josh Wander, the 777 founder, said: "We are truly humbled by the opportunity to become part of the Everton family as custodians of the club, and consider it a privilege to be able to build on its proud heritage and values.
"Our primary objective is to work with fans and stakeholders to develop the sporting and commercial infrastructure for the men's and women's teams that will deliver results for future generations of Everton supporters."
Speaking about the takeover, ahead of Everton's home Premier League game with Arsenal on Sunday, manager Sean Dyche said: "There is no impact on me at the moment or the players.
"I was aware something may be happening. There is ongoing checks from the Premier League and alike so that will take some time.
"It will be interesting to see their view. The business side and stadium - they are things to be looked at when it's signed and sealed and tied up.
The club's fan advisory board issued a statement saying the takeover needed to be scrutinised in the "most rigorous manner possible".
"We recognise the news today raises many questions for Evertonians and we have already asked for an urgent meeting with Club and 777 representatives to obtain some clarity on the plans for the development of the club," the statement read.
777 looking forward to 'world-class' new stadium
Everton lie 18th in the Premier League after picking up just one point from their opening four games this season.
They have endured disarray on and off the pitch, narrowly escaping relegation in the past two seasons, including staying up with victory on the final day last term.
Next month the club will go before an independent commission for an alleged breach of the Premier League's Financial Fair Play rules, but Everton have denied wrongdoing and said they were "prepared to robustly defend" their position.
In March, the club posted financial losses for the fifth successive year, taking their cumulative losses over that period to more than £430m.
They are also in the process of building a new stadium on Bramley-Moore Dock and costs could reach £760m, a £260m increase on figures quoted by the club last year.
"I have been open about the need to bring in new investment and complete the financing for our iconic new stadium at Bramley-Moore Dock, on the banks of the Mersey, which I have predominantly financed to date," said Moshiri.
"I have spoken to a number of parties and considered some strong potential opportunities. However, it is through my lengthy discussions with 777 that I believe they are the best partners to take our great club forward, with all the benefits of their multi-club investment model."
Wander added: "We are committed to partnering with the local community over the long term, working on important projects such as the development of Bramley-Moore Dock as a world-class stadium venue, allowing thousands more Evertonians to attend our home matches and contribute to the economic and cultural regeneration of Merseyside."
What has happened at Everton? Farhad Moshiri previously had a stake in Arsenal before buying Everton
Moshiri has invested more than £750m in Everton since 2016, but some supporters have been deeply unhappy about his ownership.
Toffees fans held protests before some home games last season and called for Moshiri and the board to leave the club.
Chief executive Denise Barrett-Baxendale, chief finance and strategy officer Grant Ingles and non-executive director Graeme Sharp have all since left their boardroom roles, but chairman Bill Kenwright remains in his post.
In February, Moshiri told Everton's fans' advisory board the club was "not for sale" but he had been talking to "top investors of real quality".
Everton reached an exclusivity agreement with New York-based company MSP Sports Capital for investment in the club in May, but talks collapsed in August.
In the latest accounts, the club had an annual turnover of £181m - down from £193.1m - having suspended commercial sponsorship arrangements with Russian companies in March 2022.
Russian billionaire Alisher Usmanov, who had his assets frozen by the European Union following Russia's invasion of Ukraine, has a 49% stake in USM Holdings, which sponsored Everton's training ground. Usmanov had been a long-time business partner of Moshiri.
Moshiri put a cash injection of £70m into Everton in 2021-22.
During his tenure, Everton have had eight permanent managers - Roberto Martinez, Ronald Koeman, Sam Allardyce, Marco Silva, Carlo Ancelotti, Rafael Benitez, Frank Lampard and current boss Dyche.
What is 777 Partners?
The incoming proprietor of Everton is an investment platform based in Miami that has branched out into sports clubs over the past few years.
It aims to provide growth capital for businesses and describes its move into the sports market as being an "investment in the long game".
Football clubs it has invested in include Vasco de Gama in Brazil, Standard Liege in Belgium and Hertha Berlin of Germany, but it has faced protests from supporters about the way its clubs have been run.
The firm also holds a share in La Liga's Sevilla, who won the Europa League last season.
777 bought a 45% stake in the British Basketball League in 2021, in a deal which was determined to present no conflict of interest despite the same firm also owning the London Lions, who won the title in 2022-23.
The group's interests are not limited to sport - it also has assets in insurance, aviation, media and entertainment.
Source:
BBC News
Powered by NewsAPI.org