Cricket Australia makes neck protectors compulsory
- 2 minutes read
---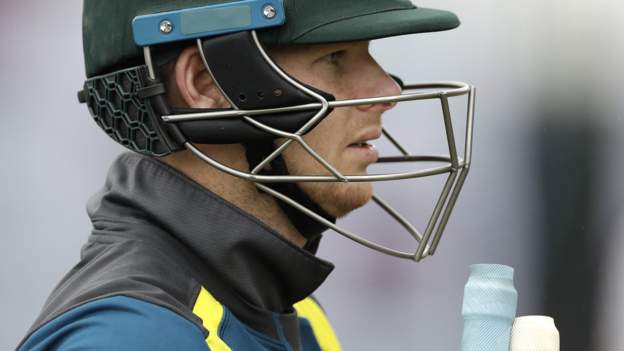 Australia batter Steve Smith says neck protectors make him feel "claustrophobic'
Cricket Australia has made it mandatory for batters to wear neck protectors on their helmets when facing fast or medium-pace bowling.
Australia's Steve Smith and David Warner are not keen on wearing them but will now have to do so from 1 October.
Cricket Australia has recommended the use of neck protectors since the death of Phillip Hughes in November 2014.
Hughes was struck on the top of the neck by a ball during a Sheffield Shield match in Sydney.
He collapsed and died in hospital two days later.
The neck protectors attach to helmets to provide extra protection at the back of the head and neck.
Smith, who was concussed after being hit by a bouncer from England bowler Jofra Archer in a Test match at Lord's in 2019, has previously said they made him feel "claustrophobic".external-link
He did not initially wear one when he played for Sussex against Worcestershire in May and, as neck protectors are mandatory in county cricket, play was delayed by 10 minutes so he could fit one.
The ruling by Cricket Australia to make neck protectors compulsory comes after Australia all-rounder Cameron Green had to be substituted with concussion after being struck by a Kagiso Rabada bouncer in a one-day international against South Africa earlier this month.
"Protecting the head and neck is extremely important in our sport," said Peter Roach, Cricket Australia's head of cricket operations and scheduling.
"The neck protector product has come a long way in recent years and the decision to make them mandatory comes off the back of a lot of advice and consultation with a wide range of experts and stakeholders."
Source:
BBC News
Powered by NewsAPI.org