USATT'S THURSDAY NIGHT LIVE: Lily Zhang Gives Butterfly 5-2 Lead - Butterfly Table Tennis
- 2 minutes read
---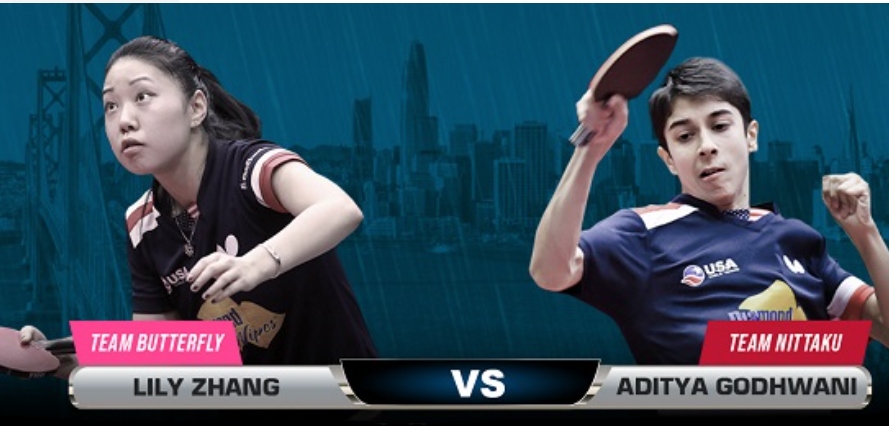 (by Steve Hopkins)
USA Table Tennis conducted its seventh Challenge Series event this week. The event was another battle of the sexes with Olympian and US Champion Lily Zhang representing Team Butterfly and rising junior Adita Godhwani playing for Team Nittaku.
The players traded the first two games. In Game 3 it was Adita who was strong early, but a run by Lily put her up 8-6 and trying to close out. Adita pressed the pace with his backhand, winning one point and then missing long in another. He then scored two points in a row to tie the score and 9-9. After a time out, Lily had the serve. The first point was safe from both players down the middle with Lily winning, and Adita tried a big forehand the missed in the last point of the game.
The fourth game began just before the clock ran out, so it would be a full game. Under the T2 rules, later games are to 5 points only. It was Lily who jumped out to the early lead in game four, initially leading 5-1 and then 6-3 and then 8-5. Adita made it tight with a final push the tied the score at 8-8, but Lily held on for the 11-8 win. Lily leads 3-1.
The fifth game started the T2 shorter games, or "Fast5". Two of the first three points were edge balls for Adita, but his luck stopped there as Lily continued to dominate the long points with solid placement and control. Lily put the match away with the 5-3 game win and the 4-1 match win.
Butterfly extends their lead making it 5-2. Next week it will be Ved Seth (for Team Nittaku) versus Joanna Sung (for Team Butterfly). The first to 6 team wins takes the title, so Team Butterfly is just one win away. Tune in next week to watch the match hosted at the ICC Club in Northern California.
Sign up to stay In the Loop with Butterfly table tennis products, table tennis news, upcoming tournaments, tournament results and more.
Share the post "USATT'S THURSDAY NIGHT LIVE: Lily Zhang Gives Butterfly 5-2 Lead"
Source:
Butterfly Online
Other posts from Hank
---
HuffPost is part of Verizon Media. We and our partners will store and/or access information on your device through the use of cookies and similar technologies, to display personalised ads and content, for ad and content me...
continued
1 minute read
---
6:45 AM ETNFL NationESPN The NFL Power Rankings are inherently a judge of each team's strength. But to find out which team is the strongest, you have to consider their weak spots. That's what we're doing in this week's ran...
continued
19 minutes read
---
For some of us, social media and digital content have been our saving graces during the pandemic—a critical way to stay in the know, keep connected, and maintain relationships. But they have their own stress-inducing downs...
continued
5 minutes read