What's Worth Streaming: Here's everything coming to Amazon's Prime Video in September 2023
- 8 minutes read
---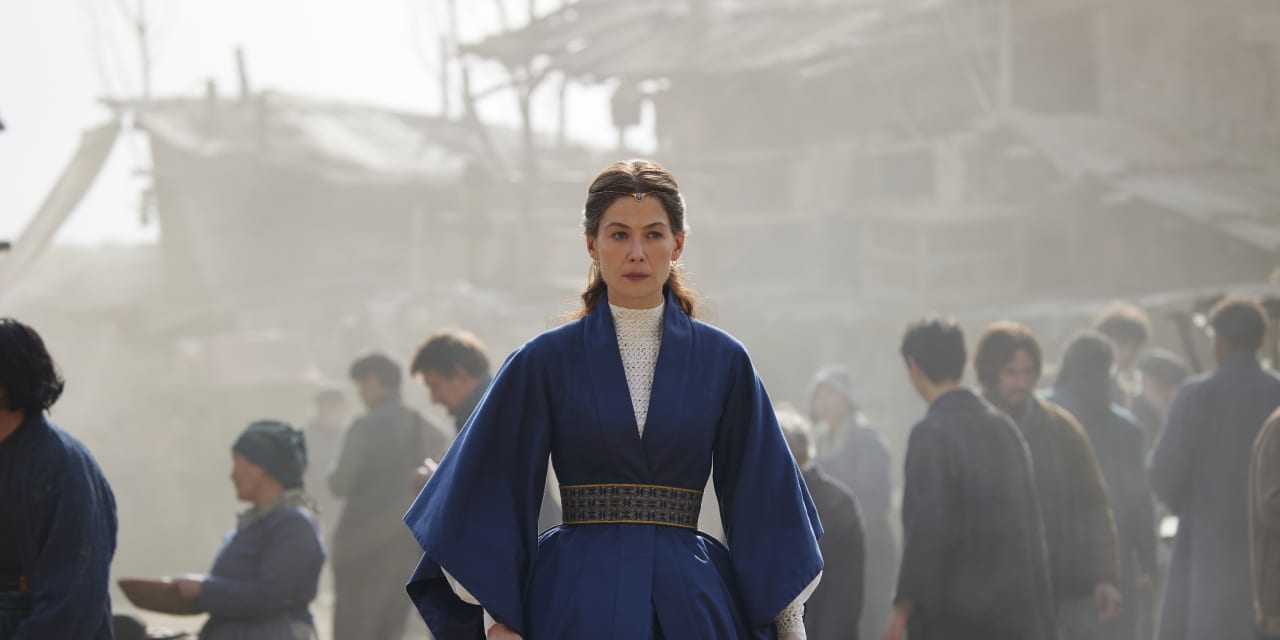 Amazon's Prime Video has high hopes for its September lineup, which includes the return of "The Wheel of Time" and a spinoff of "The Boys."
After a two-year layoff, Season 2 of the sprawling fantasy epic "The Wheel of Time" (Sept. 1) picks up with Moraine (Rosamund Pike) and Rand (Josha Stradowski) now scattered and forced to regroup as the Dark One turns out to be far from defeated. Season 1 was one of Prime's most-watched series ever, and Season 2 will reportedly be darker and more action-packed, spanning the second and third books of Robert Jordan's series.
The end of the month will bring the premiere of "Gen V" (Sept. 27), set in "The Boys" universe and following a group of students with extraordinary abilities at a prestigious — and extremely competitive — college for superheroes-to-be. It looks every bit as depraved and violent as the massively popular "The Boys," for better or worse.
Also see: What's coming in September to Netflix | Hulu | Max
Amazon's
AMZN,
+1.04%
streaming service also has "Kelce" (Sept. 12), a feature documentary about Philadelphia Eagles All-Pro center Jason Kelce's 2022-'23 season, which will serve as a prelude to the return of NFL Thursday Night Football (Sept. 14), which kicks off with the Eagles against the Minnesota Vikings.
Here's the complete list of what else is coming to Prime Video in September (release dates are subject to change):
What's coming to Prime Video in September 2023
Sept. 1 Spin City S1-6 (1997) The Wheel of Time Season 2 10 Things I Hate About You (1999) 2001: A Space Odyssey (1970) 21 Grams (2004) 23:59 (2011) A Bullet for Pretty Boy (1970) A Force of One (1979) A Man Called Sarge (1990) A Matter of Time (1976) A Rage to Live (1965) Abbott and Costello Meet Frankenstein (1948) After Midnight (1989) Alakazam the Great (1961) Alex Cross (2012) All About My Mother (2000) Amazons of Rome (1963) American Ninja (1985) American Ninja 2: The Confrontation (1987) American Ninja 3: Blood Hunt (1989) American Ninja 4: The Annihilation (1991) Anaconda (1997) And Your Name Is Jonah (1979) Angel Eyes (2001) Apartment 143 (2012) April Morning (1988) Arabian Nights (2000) Are You in the House Alone? (2022) Army of Darkness (1993) As Above, So Below (2014) Back to School (1986) Bad Education (2020) Bad News Bears (2005) Bailout at 43,000 (1957) Balls Out (2015) Beer (1985) Behind the Mask (1999) Belly of an Architect (1990) Berlin Tunnel 21 (1981) Bewitched (2005) Billion Dollar Brain (1967) Blow (2001) Body Slam (1987) Born to Race (2011) Bowling for Columbine (2002) Boy of the Streets (1937) Breakdown (1997) Brides of Dracula (1960) Brigadoon (1954) Broken Embraces (2010) Buster (1988) Calendar Girl Murders (1984) California Dreaming (1979) Campus Rhythm (1943) Captain Kidd and the Slave Girl (1954) Carpool (1996) Carry on Columbus (1992) Carve Her Name With Pride (1958) Chasing Papi (2003) Cheerleaders Beach Party (1978) Children of Men (2007) Child's Play (2019) China Doll (1958) Chrome and Hot Leather (1971) Cocaine: One Man's Seduction (1983) Committed (2000) Conan the Barbarian (2011) Condor (1986) Confidence Girl (1952) Courage Mountain (1990) Crossplot (1969) Curse of the Swamp Creature (1966) Curse of the Undead (1959) Cycle Savages (1969) Dagmar's Hot Pants, Inc. (1971) Damned River (1989) Dancers (1987) Danger in Paradise (1977) Dangerous Love (1988) Deep Blue Sea (1999) Defiance (2009) Deja Vu (2006) Desert Sands (1955) Desperado (1995) Detective Kitty O'Day (1944) Detective School Dropouts (1986) Devil (2010) Devil's Eight (1969) Diary of a Bachelor (1964) Dogs (1977) Don't Worry, We'll Think of a Title (1966) Double Trouble (1992) Down the Drain (1990) Dr. Heckyl and Mr. Hype (1980) Dracula (1931) Drag Me to Hell (2009) Driving Miss Daisy (1990) Dust 2 Glory (2017) Edge of Darkness (2010) Eight Men Out (1988) Eight on the Lam (1967) Electra Glide in Blue (1973) Elephant Tales (2006) Europa Report (2013) Evil Dead (2013) Explosive Generation (1961) Extraction (2015) Face/Off (1997) Fanboys (2009) Fashion Model (1945) Fatal Charm (1978) Fearless Frank (1969) Finders Keepers (2014) Flight That Disappeared (1961) Flight to Hong Kong (1956) Fools Rush In (1997) For the Love of Aaron (1994) For the Love of It (1980) For Those Who Think Young (1964) Four Weddings and a Funeral (1994) From Hollywood to Deadwood (1989) Frontera (2014) Fury on Wheels (1971) Gambit (1967) Ghost Story (1981) Gigli (2003) Grace Quigley (1985) Grievous Bodily Harm (1988) Hangfire (1991) Haunted House (2023) Hawks (1989) Hell Drivers (1958) Here Comes the Devil (2012) Hollywood Harry (1986) Honeymoon Limited (1935) Hostile Witness (1969) Hot Under the Collar (1991) Hotel Rwanda (2005) Hugo (2011) I Am Durán (2019) I Saw the Devil (2010) I'm So Excited! (2013) Inconceivable (2017) Innocent Lies (1995) Intimate Strangers (2006) Invisible Invaders (1959) It Rains in My Village (1968) Jarhead (2005) Jeff, Who Lives at Home (2011) Joyride (2022) Juan of the Dead (2012) Kalifornia (1993) Khyber Patrol (1954) La Bamba (1987) Labou (2009) Lady in a Corner (1989) Ladybird, Ladybird (1995) Legally Blonde 2: Red, White and Blonde (2003) Legend of Johnny Lingo (2003) Little Dorrit (Part 1) (1988) Little Dorrit (Part 2) (1988) Little Sweetheart (1989) Lost Battalion (1960) Mama (2013) Mandrill (2009) Masters of the Universe (1987) Matchless (1967) Meeting at Midnight (1944) Men's Club (1986) Mfkz (2018) Midnight in the Switchgrass (2021) Miss All American Beauty (1982) Mission of the Shark (1991) Mixed Company (1974) Mystery Liner (1934) National Lampoon's Movie Madness (1983) New York Minute (2004) Nicholas Nickleby (2002) Night Creatures (1962) No (2012) Observe and Report (2009) Octavia (1984) October Sky (1999) Of Mice and Men (1992) One Man's Way (1964) One Summer Love (1976) Operation Atlantis (1965) Overkill (1996) Panga (1990) Passport to Terror (1989) Phaedra (1962) Play Misty for Me (1971) Portrait of a Stripper (1979) Powaqqatsi (1988) Predator: The Quietus (1988) Private Investigations (1987) Prophecy (1979) Pulse (2006) Quinceanera (1960) Raiders of the Seven Seas (1953) Red Dawn (1984) Red Eye (2005) Red Riding Hood (1988) Red River (1948) Reform School Girls (1969) Riddick (2013) Riot in Juvenile Prison (1959) River of Death (1989) Rocky (1976) Rocky II (1979) Rose Garden (1989) Roxanne (1987) Rumble Fish (1983) Runaway Train (1985) Running Scared (2006) Safari 3000 (1982) Season of Fear (1989) Secret Window (2004) Sense and Sensibility (1996) Sergeant Deadhead (1965) Seven Hours to Judgment (1988) Sharks' Treasure (1975) She's Out of My League (2010) She's the One (1996) Sin Nombre (2009) Sinister (2012) Slamdance (1987) Snitch (2013) Son of Dracula (1943) Space Probe Taurus (1965) Spanglish (2004) Spell (1977) Stardust (2007) Step Up (2006) Sticky Fingers (1988) Stigmata (1999) Sugar (2009) Summer Rental (1985) Surrender (1987) Sword of the Valiant (1984) Tangerine (2015) Tenth Man (1988) The Adventures of Gerard (1978) The Adventures of the American Rabbit (1986) The Assisi Underground (1986) The Bad News Bears (1976) The Beast with a Million Eyes (1955) The Birdcage (1996) The Black Dahlia (2006) The Black Tent (1957) The Bourne Identity (2002) The Bourne Legacy (2012) The Bourne Supremacy (2004) The Break-Up (2006) The Cat Burglar (1961) The Chronicles of Riddick (2004) The Clown and the Kid (1961) The Diary of a High School Bride (1959) The Dictator (2012) The Evictors (1979) The Fake (1953) The Family Stone (2005) The Final Alliance (1990) The Finest Hour (1991) The Frog Prince (1988) The Ghost in the Invisible Bikini (1966) The Incredible 2-Headed Transplant (1971) The Invisible Man (1933) The Jewel of the Nile (1985) The Late Great Planet Earth (1979) The Legend of Zorro (2005) The Little Vampire (2017) The Living Ghost (1942) The Locusts (1997) The Machinist (2004) The Manchu Eagle Murder Caper Mystery (1975) The Manchurian Candidate (1962) The Mask of Zorro (1998) The Mighty Quinn (1989) The Misfits (1961) The Motorcycle Diaries (2004) The Mouse on the Moon (1963) The Mummy (1932) The Naked Cage (1986) The Night They Raided Minsky's (1968) The Possession (2012) The Prince (2014) The Program (1993) The Ring (2002) The Sacrament (2014) The Savage Wild (1970) The Secret in Their Eyes (2010) The Sharkfighters (1956) The Sisterhood of the Traveling Pants (2005) The Spiderwick Chronicles (2008) The Sum of All Fears (2002) The Winds of Kitty Hawk (1978) The Wolf Man (1941) The Young Savages (1961) Three Came To Kill (1960) Three Kinds of Heat (1987) Through Naked Eyes (1983) Time Limit (1957) To Catch a Thief (1955) Tough Guys Don't Dance (1987) Track of Thunder (1967) Transformations (1991) Transporter 3 (2008) Trollhunter (2011) True Heart (1996) Underground (1970) Unholy Rollers (1972) Unsettled Land (1989) V/H/S (2012) War, Italian Style (1967) Warriors Five (1962) We Still Kill the Old Way (1968) When a Stranger Calls (2006) Where the Buffalo Roam (1980) Where the River Runs Black (1986) Wild Bill (1995) Wild Racers (1968) Wild Things (1998) Windows (1980) Woman of Straw (1964) Young Racers (1963) Zack and Miri Make a Porno (2008)
Sept. 5One Shot: Overtime Elite
Sept. 7Single Moms Club (2014)
Sept. 8Sitting in Bars with Cake
Sept. 12Inside (2023) Kelce
Sept. 14Thursday Night Football
Sept. 15A Million Miles Away
Wilderness
Written in the Stars
Sept. 19A Thousand and One (2023)
Sept. 22Cassandro (2023)
Guy Ritchie's The Covenant (2023)
Sept. 26The Fake Sheikh
Sept. 29Gen V
Source:
MarketWatch
Powered by NewsAPI.org