Brandon Aubrey's wild journey from MLS draftee at Toronto FC to kicker in the NFL
- 9 minutes read
---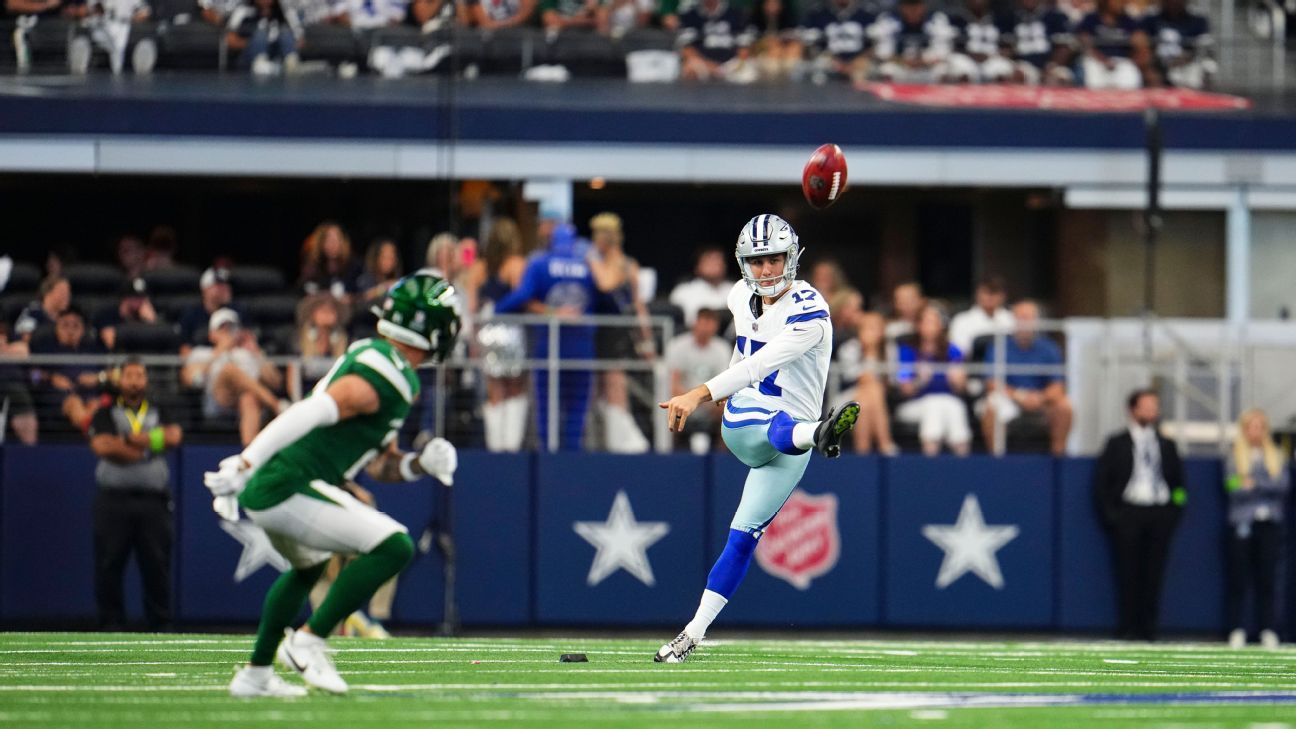 Todd Archer, ESPN Staff WriterSep 22, 2023, 10:46 AM ETCloseTodd Archer is an NFL reporter at ESPN and covers the Dallas Cowboys. Archer has covered the NFL since 1997 and Dallas since 2003. He joined ESPN in 2010. You can follow him on Twitter at .
Brandon Aubrey has been off to a good start so far for the Dallas Cowboys, a career path that he didn't expect just a couple years ago while he was at Toronto FC. (Photo by Cooper Neill/Getty Images)
FRISCO, Texas -- Growing up in Plano, Texas, Brandon Aubrey had friends wanting to be Dallas Cowboys stars Tony Romo, Jason Witten or DeMarcus Ware. Aubrey wanted to be someone different from those football-loving friends. He wanted to be Thierry Henry, the Arsenal star (1999-2007) and a World Cup winner with France in 1998.
"He was the best player, a lot of fun to watch," Aubrey tells ESPN. "He could do things other players couldn't do."
Aubrey may have thought more about a World Cup than a Super Bowl back then. As a kid he played for the Dallas Texans, the same club that produced Clint Dempsey, the United States men's national team star and all-time top scorer. He played college soccer at Notre Dame, winning a national championship during his freshman year. By the time he left South Bend, Indiana, he was a first-team All-ACC pick and the Irish's Most Valuable Player.
In 2017, Aubrey was a first-round pick in the MLS Draft by Toronto FC, No. 21 overall, as he followed his soccer dream. But his professional career lasted just two seasons. Almost as soon as that dream ended, another appeared when he was watching an NFL game when his wife, Jenn, told him after seeing a kicker, "You could do that."
So began a route that took him to kicking at local parks during the pandemic, to the USFL's Birmingham Stallions for two seasons, and then to last July when he signed with the Cowboys. In two games, Aubrey has made seven field-goal attempts and five of six extra points. After two games, his 26 points are the most by NFL kickers and fifth most through two career games in NFL history.
- Stream on ESPN+: LaLiga, Bundesliga, more (U.S.)
"It's a good start. Something to build on," Aubrey said. "Hopeful to keep it going. Just take it one game at a time and focus on the next job at hand. A lot of times with kickers, you play one week to earn yourself the next week. So that's the way I've been looking at it. I've earned myself now Week 3, so now go out in Week 3 and earn Week 4."
Aubrey understands the fickle nature of professional sports better than most. He never played for the first team at Toronto FC, which went on to win the 2017 MLS Cup his rookie year with notable names like Sebastian Giovinco, Jozy Altidore and Michael Bradley. As a center-back, he was behind veterans like Drew Moor, Eriq Zavaleta, Chris Mavinga and Nick Hagglund. Instead, he played 21 matches as a center-back for Toronto FC II, the organization's reserve squad in the United Soccer League (USL).
"He was comfortable on the ball. He was pretty confident," said his manager at the time, Jason Bent, who is now with the LA Galaxy.
"I wouldn't say he was the most mobile center-back... the way we played, we tried to press and be aggressive and play a high line that caught him on some occasions; not just him, but the rest of the back line. His aerial ability and ability to head the ball was quite good. Maybe hindsight being 20/20, we could've used his ability to strike the ball to play in behind the defenses a little more."
Editor's Picks2 Related
Proof that professional soccer operates in a different manner than other sports in this country, Aubrey was released after one season despite his draft status. He called it an opportunity lost.
"Just anytime you get into a room as a first-round draft pick, you feel like you have some expectations and you've worked really hard to get there and you have aspirations to stick, to be the guy who's going to be that player for the club that does great things over a number of years," Aubrey said.
"And obviously I didn't live up to what I built up in my head and, yeah, those were really good players I was competing with looking back at it, but you would like to do more with the opportunity given."
In 2018, he signed with the Philadelphia Union and played for the Bethlehem Steel in the USL. When that season ended, the franchise dissolved and the Union decided to go with a pure academy team to develop their players. He had a few chances to stay in USL but newly married and making just $35,000 a year, he decided to walk away.
"Am I going to go miles away from my wife for pennies, when I could stay home with her and make twice that as an engineer?" Aubrey said.
He took a job with GM Financial as a software engineer in Arlington, Texas, about 15 minutes from the Cowboys' home, AT&T Stadium. He enjoyed the job, but then his wife made that comment and it kick-started inside of him.
Brandon Aubrey was selected 21st overall by Toronto FC in the 2017 MLS SuperDraft. Kirby Lee-USA TODAY Sports
"I figured I might as well at least try it," he said. "It would make logical sense that kicking a soccer ball I should be able to, with a little bit of practice, kick a football."
And so, Aubrey was kicking again for the first time since he was on the Schimelpfenig Middle School team in Plano. After a couple years of working out with private coaches, he was drafted again. This time in the 32nd round of the USFL draft by Birmingham. In his first season, he made 18 of 22 field goal tries and 22 of 24 PATs. Last spring, he made 14 of 15 field goal tries and all 35 extra points as Birmingham won the USFL championship for the second straight year.
After Brett Maher missed four extra points in the Cowboys' playoff win against the Tampa Bay Buccaneers in January, the Cowboys knew they would need a new kicker in 2023. They had interest in Jake Moody and Chad Ryland, both of whom were selected in the draft earlier than the Cowboys wanted to take a kicker. They didn't express a desire in adding a veteran in free agency so, in June, special teams coach John Fassel went on fact-finding mission to Birmingham, Alabama, to see Aubrey in person. Fassel made sure not to wear any Cowboys' gear.
"I might've snuck down to the field," Fassel said during news conference on Monday. "Just to get a closer feel for the sound of it, the look of it." Stallions punter Colby Wadman, who played for the Denver Broncos a few years ago, recognized Fassel and told Aubrey he was there.
STREAM ESPN FC DAILY ON ESPN+Dan Thomas is joined by Craig Burley, Shaka Hislop and others to bring you the latest highlights and debate the biggest storylines. Stream on ESPN+ (U.S. only).
"I tried to stay out of the way," Fassel said, "but even a tall, skinny, ugly guy stands out."
"I think they even put him on the Jumbotron at one point," Aubrey said. Aubrey wasn't sure if Fassel was there to see him or Philadelphia's Luis Aguilar, but he made both of his field goal attempts in the Stallions' win and spoke with Fassel after the game. Less than a month later, Aubrey signed a three-year deal with the Cowboys that did not include even a minimal signing bonus.
"When I started this process it was 'any team will do, anyone that wants to pay me to play football would be great,'" Aubrey said. "As soon as we knew we had this opportunity, with a few other opportunities, we had to jump on this one just being the hometown kid."
On July 24, he was on a plane for Oxnard, California. On Aug. 7, the Cowboys released Tristan Vizcaino, his competition, effectively giving Aubrey the job before kicking in a real game.
In his first preseason game, Aubrey missed an extra point. In his third he missed a 59-yard try, but to close the first half he made a 59-yarder. In his first regular-season game, a rainy night at MetLife Stadium, he missed his first extra point against the New York Giants, but made both of his field goal attempts. Last week, he was perfect against the Jets. In two games, all 16 of his kickoffs have gone for touchbacks.
"He is a weapon," Fassel said. There are still things Aubrey is getting accustomed to as a kicker since he doesn't have a lot of experience, like pace of operation and different game situations. But he is a quick learner and Fassel appreciates that Aubrey can tell him what went wrong or right on every kick.
The Brandon Aubrey Boot never disappoints 🔥A 55-yarder from our Champion 🙌 |
#DallasCowboys
pic.twitter.com/Vl9CQvL6JM— USFL () September 17, 2023
"You know, we've still got a long ways to go," Fassel said. "That's coach-speak and all that. It's two games. If he was four of seven instead of seven of seven, I'd still say, 'Hey, we've got a young kicker that's got some talent, some ability.' We've got to keep tightening some things up."
Bent, his Toronto coach, was home last week in Los Angeles watching television when he happened upon the Cowboys game. He saw some stories online about Aubrey and knew his former center-back had a new job for America's team. He smiled as Aubrey made five field goal attempts, including a 55-yarder, against the Jets.
"I'm proud and happy that he has forged this career," Bent said. "It just shows you when one door closes another one can open. That's a great story."
As Aubrey drove home from the Jets' game with his wife from AT&T Stadium -- on the same road that he would take when he was working at GM Financial -- they were able to reflect.
"We're just sitting there and I'm like, 'Man, I'm really a Dallas Cowboy right now,'" Aubrey said. "Just took the moment there to really let it sink in.
Source:
ESPN
Powered by NewsAPI.org