It's lo-fi Attenborough! Why the internet's going wild for a 'fish doorbell'
- 5 minutes read
---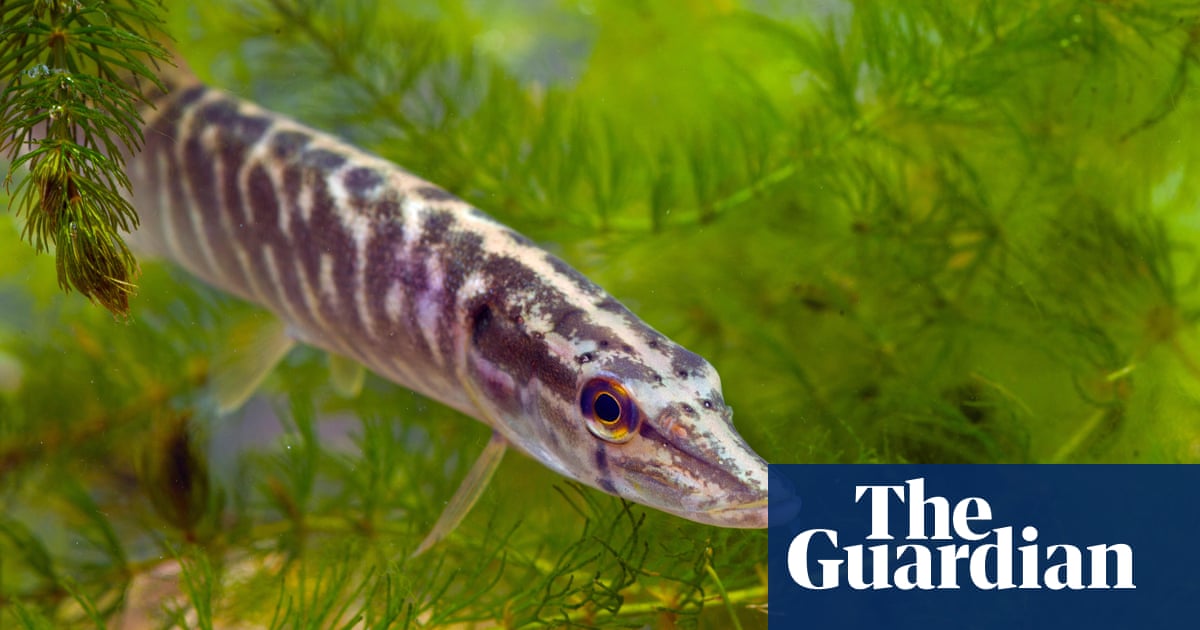 Something fishy is happening in the Netherlands and viewers worldwide are hooked. No, this isn't the latest voyeuristic reality series from the creators of Big Brother and The Traitors. It's a charmingly innocent live stream which lets you ring a doorbell on behalf of some frisky fish.
For the past three migration seasons, an online feed has broadcast live footage from an underwater camera at a lock to the west of Utrecht. Every spring, thousands of fish swish through the Netherlands' fourth-largest city, seeking shallow waters in which to lay their eggs. Some swim all the way to Germany, like piscine Adam Peatys. Slight snag: they often have to wait at the Weerdsluis lock, which seldom opens at this time of year.
Local ecologists came up with an ingenious solution: the world's first fish doorbell or visdeurbel in Dutch (try saying it out loud). If webcam watchers spot fish waiting to pass, they simply press a virtual doorbell and the lock keeper – who can't see down into the water, which is 2.1 metres (7ft) deep, from dry land – is sent a notification. When enough fish have gathered, the operator opens the 200-year-old sluice gate by hand to let them through.
It enables professionals and the public to work together around the clock, ensuring fish don't have to wait too long. Like a marine midwife or damp doula, you can help them reach their spawning sites unscathed. It means they're less likely to fall victim to predators such as herons, cormorants and grebes (boo! baddies!).
'Wholesome, interactive and addictive' … an image from the live feed.
The project is a collaboration between water authorities and the municipality of Utrecht as fish are a vital part of the ecosystem, eating insects and maintaining the cleanliness of canals. It also provides data about the plentiful wildlife beneath the serene surface of the city's waterways.
No wonder visitors are logging on to lend a hand, waving through 2,000 fish a week. Politely holding a door open for our scaly pals – who lack the opposable fins to do it themselves – is a feelgood act of kindness. The green-tinged live feed is like a calming version of that giant puddle in Newcastle or an eco equivalent of Big Jet TV. It's wholesome, interactive and addictive, akin to a soggy Springwatch or a low-budget Blue Planet.
As ecologist Mark van Heukelum, the fish doorbell's inventor, explains: "I knew I couldn't watch the camera 24/7 but it occurred to me that we could do this together. I thought I'd reach out to the public and see how many people would be willing to do this for a few minutes per day. Initially we even went door-to-door, asking households near the lock if they were interested in helping out." The crowdsourcing approach has worked beyond his wildest dreams. "Little did we know that it would go viral in just a matter of days," says Van Heukelum.
skip past newsletter promotionSign up to What's OnGet the best TV reviews, news and exclusive features in your inbox every MondayPrivacy Notice: Newsletters may contain info about charities, online ads, and content funded by outside parties. For more information see our Privacy Policy. We use Google reCaptcha to protect our website and the Google Privacy Policy and Terms of Service apply.after newsletter promotionIn spring 2021, the doorbell was rung more than 100,000 times by punters as far afield as Canada and Taiwan
During its debut season in spring 2021, the doorbell was rung more than 100,000 times by punters as far afield as Canada and Taiwan. Thanks to its growing fanbase, this has been its best year yet, hitting 1m unique users and 8.2m visits in total. The brilliantly named Thunder Keck, linebacker for the Stanford Cardinals and a sustainability graduate, raised awareness in America by recommending it to his 800,000 TikTok followers. It's become "a thing" in the UK since QI tweeted it last week.
On the website, you can see how many people are currently watching. It's always 100-plus and can go as high as 500, depending on the time of day. Seasoned viewers know that fish prefer to travel in the dark, which is safer because there are fewer birds around. Checking the live stream after dusk increases your chances of spotting species including perch, pike, bream, eels, rudd and rare breeds of catfish. Non-native crayfish and crabs have also popped up. Fans share their sightings on social media under the pleasingly Ronseal hashtag of #fishdoorbell. It has its own Facebook discussion group, where members compare notes and upload pics.
You can see why so many people are excited about it. The ambient feed is oddly soothing to watch – akin to an aquarium in a dentist's waiting room. Ideal for anyone having a stressful day or suffering a Glastonbury comedown. Nothing much happens for a while but when it does, you'll find yourself wriggling with excitement like a happy eel.
This year's migration season ends on Friday, when the camera will be switched off until March. It means you only have a couple of days left to sample its amateur Attenborough delights. Quick, fire up the fish cam. And away …
Source:
The Guardian
Powered by NewsAPI.org