UK inflation report to show if price rises slowed in June – business live
- 20 minutes read
---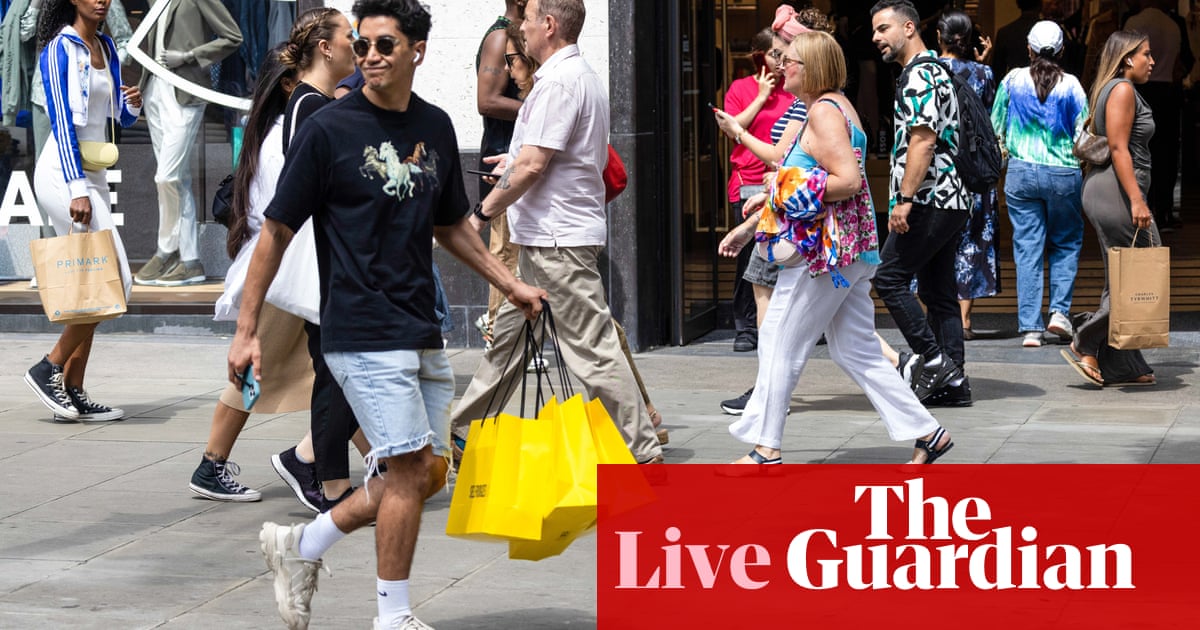 FTSE 100 on track for best day of 2023Britain's blue-chip share index is on track for its best day of the year, as the fall in UK inflation in June boosts confidence in the City.The FTSE 100 index is now up 151 points, or 2%, at 7606 points – a one-month high.That would be its best day since last October.Hopes that UK interest rates will peak below 6% are spurring a strong rally in housebuilders, with Persimmon (+9.5%), Taylor Wimpey (+6.6%) and Barratt Development (+6.5%) in the top risers.🇬🇧 UK REAL ESTATE INDEX UP 5.2%, SET FOR BIGGEST ONE-DAY JUMP SINCE FEBRUARY 📈🇬🇧 UK HOMEBUILDERS INDEX SET FOR BIGGEST ONE-DAY GAIN SINCE NOVEMBER 2008, LAST UP 6.6% 📈— FMN - FastMarketNews () July 19, 2023The money markets now believe the Bank of England is more likely to raise interest rates by a quarter-point next month, rather than by half a point as previously expected.Looking further ahead, rates are expected to peak around 5.75%, rather than over 6%.A whole repricing of UK interest rate expectations takes place as short-end Gilts rally following soft UK CPI figures. Markets now pricing +0.28% increase on Aug 3rd vs +0.44% yesterday. Terminal rate now seen reaching 5.8% compared to an expectation of nearer to 6.25% yesterday.— Saxo UK () July 19, 2023UK government bonds continue to rally (see earlier post), pulling down the yields used to price fixed-rate mortgages.The drop in UK inflation to 7.9%, from 8.7%, has also sparked a strong rally in the UK-focused FTSE 250 index.The FTSE 250, which contains smaller companies, is up 3.59%, its strongest day since February.Investors are hoping that UK inflation has peaked, and will fall back towards levels seen in other major economies.Danni Hewson, head of financial analysis at AJ Bell, says:
A further decline in inflation for July could really get the ball rolling for UK equities and lift them out of the mud. While the FTSE 250 is in party mode today, the rally only puts the index back to levels last seen in June.
"Housebuilders had been heavily sold off due to fears a sharp rise in interest rates would destabilise the housing market. While that's certainly in motion, with plenty of people struggling with higher mortgage rates and a slowdown in property transactions, the valuations of housebuilders were effectively pricing in a deep rut.
Today's inflation news has spurred investors with an appetite for risk to go fishing for bargains in the space in the hope that property market won't experience a severe collapse."
Updated at 15.12 BST
Key eventsShow key events onlyPlease turn on JavaScript to use this featureClosing postTime to recap, after a potentially pivotal day in Britain's fight against inflation.UK inflation fell further than expected in June to 7.9% amid a sharp fall in petrol prices, raising hopes that the Bank of England may not raise interest rates as high as feared in the months ahead.The Office for National Statistics said the annual inflation rate as measured by the consumer prices index resumed a downward path after unexpectedly sticking at 8.7% in May.The drop exceeded City forecasts for a decline to 8.2%, and took inflation to its lowest since March 2022.A chart showing UK inflationFinancial markets responded by betting that the Bank of England would no longer drive interest rates above 6% early next year. They are now expected to peak at around 5.75% around the end of this year.Markets also predicted that the central bank would introduce a more modest quarter-point rise in borrowing costs at its next policymaking meeting in August, instead of a tougher half-point increase from the current level of 5%.Sanjay Raja, Deutsche Bank's chief UK economist, says:
The probability of a quarter point hike is higher, following the June CPI miss.
ING's James Smith said that we finally have good news on UK inflation.Here's a breakdown of the key price changes:A chart showing inflation changesShares rallied strongly in London, with the FTSE 100 posting its biggest points gain of the year as traders took confidence that interest rates will peak lower than feared. Housebuilders led the rally.UK government bonds also rallied, which could push down the cost of mortgages in the coming days.The pound tumbled by 1.5 cents against the US dollar.The drop in inflation, from 8.7% in May, could make it easier for Rishi Sunak to hit his target of halving inflation this year…Bank of England deputy governor Sir Dave Ramsden has warned, though, that inflation remains "much too high".Warning that further interest rate rises are coming, Ramsden said:
CPI inflation has begun to fall significantly but remains much too high.
The MPC has consistently stressed that monetary policy decisions will address the risk of more persistent strength in domestic wage and price settling.
In other news…Cross-Channel transport bosses have warned MPs that "time is running out" for the UK to prepare for the EU's entry/exit system (EES).Australia's Macquarie Group has tightened its grip on the UK's energy sector today by buying another 20% of National Grid's UK gas transmission and metering business.Oil giant BP has been fined £650,000 over health and safety failings after a worker fell through an open grating on an offshore platform into the sea and died.The UK's competition regulator has provisionally cleared semiconductor designer Broadcom's $69bn deal to buy cloud computing firm VMware.Homebuilders clock best day since 2008UK homebuilders have racked up the biggest percentage gain in their shares since 2008, after signs of slowing inflation helped to bolster hopes that UK interest rates will not rise as high as once thought.Beaten down homebuilders surged 7.0%, Reuters reports, as investors cheered data showing British inflation fell to a more than expected 7.9% in June, its slowest pace in more than a year. Economists were forecasting a rise of 8.2%.Elsewhere today, Tata Group, the owner of Jaguar Land Rover, confirmed it will invest £4bn to build an electric car battery gigafactory in the UK, in a major boost to the British automotive industry.The factory is expected to be sited in Somerset and to bring 4,000 new jobs to the area.It will become one of Europe's largest battery cell manufacturing sites when it starts production in 2026, according to Tata Sons, the holding company behind the Indian conglomerate.Rishi Sunak has welcomed the news, saying:
"Tata Group's multibillion-pound investment in a new battery factory in the UK is testament to the strength of our car manufacturing industry and its skilled workers."
BoE's Ramsden: Inflation remains much too highBank of England deputy governor Sir Dave Ramsden has just declared that UK inflation "remains much too high", after it fell to 7.9% in June.In a speech at the Bank this afternoon, Ramsden pointed out that its Monetary Policy Committee (on which he sits) had predicted in May that headline CPI would fall sharply from April 2023 onwards as energy prices ease.Ramsden says:
That is what we have seen since, with CPI inflation falling from 10.1% in March to 8.7% in April and to 7.9% in June.
The Bank's inflation target is 2%, though.Ramsden warns that the Bank will look for signs of persistent inflationary pressures in the economy, including wage growth and services price inflation.He says:
CPI inflation has begun to fall significantly but remains much too high. The MPC has consistently stressed that monetary policy decisions will address the risk of more persistent strength in domestic wage and price settling.
Updated at 17.13 BSTTime "running out" to prepare UK for EU's entry/exit system, MPs hearGwyn TophamCross-Channel transport bosses have warned MPs that "time is running out" for the UK to prepare for the EU's entry/exit system (EES), which threatens to further slow down border processing times for passengers and hinder the flow of trade.The scheme, which will require new biometric identification of all foreign citizens entering the EU to be taken at the border by immigration officials, has been delayed until 2024, with implementation now likely after the Paris Olympics.The system has been designed for airports and not those in with cars and coaches, executives from Eurotunnel and the Port of Dover told the Commons European Scrutiny committee.Doug Bannister, chief executive of the port of Dover, said that the process as currently designed "could make it two to four times as long to go through the border as today", adding:
"If unresolved that could result in significant queueing."
Passengers have already been told to expect long waits this weekend due to post-Brexit stamping of passports.John Keefe, corporate affairs officer at Eurotunnel, said:
"[the] scheme was designed for comfortable airports in EU territory.. .where it struggles is where cars drive through large open spaces in all weathers and all times, and data capture has to look at people deep inside a vehicle."
Bannister said one third of all trade between EU and the UK came through the port and capacity depended on "how quickly can we get things through. This is not just a commercial thing for us – this new regulation has a large strategic impact on the health and prosperity of the nation."He urged the government to come to an agreement with France and to lobby the EU to ensure that rules and technology allowed biometric data to be taken remotely, rather than at the port, adding:
"We need to know that the app is coming in, and we need to be given the time to test that, and to ensure we can register that remotely. We need to know now. We're running out of time. It's an urgent issue."
Keefe cited a study by Logistics UK that said a day of disruption at the Channel equated to a £250m loss to the UK economy.The peak in core UK inflation now looks like it may be behind us, predicts Sanjay Raja, Deutsche Bank's chief UK economist, after it dropped to 6.9% this morning from 7.1%.
Downward momentum is gathering pace. Easing price pressures – particularly in core goods, food and energy inflation – should raise some downside risk through summer. As energy prices fall, and food inflation normalises, the likelihood of non-linear (downward) effects into the 'core' CPI basket will only rise. And survey data – as highlighted by our DB Survey Price Tracker – point to further downward momentum.
Where to now? We still think it will be some time before CPI settles at the Bank's 2% mandate (early 2025). But there is good news for Government: amidst sticky services inflation, headline CPI is now on course to drop below 5% y-o-y.
Today's data will complicate the August decision for the Bank of England's MPC, Raja adds:
The probability of a quarter point hike is higher, following the June CPI miss.
After changing our call for August, noting that a 50bps looked more likely than not following the strong wage data, we now see a 50bps hike as a coin toss. We will be re-evaluating our call in our BoE preview next week.
The pound is still sharply lower tonight, down one and a half cents at $1.288.John Higgins, chief markets economist at Capital Economics, argues that sterling could fall further against the US dollar in future:
Despite today's big reaction in markets in the UK to better-than-expected inflation news, we still think investors are overestimating the peak in interest rates there and underestimating how much monetary policy will be eased in 2024 and beyond.
Indeed, even though we've nudged up our near-term forecast for Bank Rate, we now project that the 10-year Gilt yield will fall a bit more by the end of 2023 than we previously thought.
And we still expect cable to come under extra pressure, as appetite for risk wanes.
[Cable is the pound-dollar exchange rate].FTSE 100 posts biggest points gain of the yearThe London stock market has closed…. and Britain's FTSE 100 has recorded its biggest points gain of the year, just.The blue-chip index has closed 134.5 points higher at 7,588 points, a jump of 1.8% today, and its biggest points gain since last November.That's one point more than its previous best day of 2023, last Wednesday (when the FTSE 100 gained 133.5 points, or 1.83%, after US inflation fell to 3%).Housebuilders were among the big risers, along with financial services group Hargreaves Lansdown (+8.7%) which reported a rise in new business this morning, and warehouse operator Segro (+7%).The UK government has proposed draft rules that would force big companies to demonstrate they are profitable enough to pay dividends or make other payouts.The move draws lessons from the collapse of builder Carillion in 2018.The business and trade department said the draft rules, which need approval from parliament, would come into force at the start of 2025 and apply to companies with at least 750 employees and an annual turnover of £750m or more.Gwyn TophamA strike by train staff in the RMT union will severely affect rail services across Great Britain on Thursday, heralding the start of 10 days of transport disruption and delay around the peak summer holiday getaway weekend.About 20,000 RMT members at 14 train operators will strike for 24 hours on Thursday and again on Saturday, coinciding with the end of a week-long overtime ban by train drivers in the Aslef union.Both unions will also strike next week on the London Underground, all but wiping out tube services for most of the week and spelling heavy congestion on roads.Road congestion across the country will peak on Friday and Saturday, as most schools in England and Wales break up for summer. Cross-Channel ferry passengers have been warned of long queues at Dover. Some airport staff are also expected to strike the following weekend….Jillian AmbroseSevern Trent may soon be able to charge almost 5 million customers an extra £60m in total on their water bills as a reward for exceeding its own customer service targets.The water firm, which is listed on the FTSE 100, told investors on Wednesday that it was on track to get the multimillion-pound award this year through the water regulator's incentive plan.Ofwat's scheme allows water companies to charge households higher bills as a reward for exceeding their performance targets, but demands discounts for customers if water companies fall short.Severn Trent is likely to collect the reward from its 4.8 million customers – located in Birmingham and the wider Midlands region – over a number of years to avoid a sudden change to bills.More, if your mood can take it, here:BNP Paribas have dampened the mood, by predicting the Bank of England will still vote for another large increase in interest rates, from 5% to 5.5%, next month.In a research note, they say rates will then peak at 5.75% this autumn.They argue that the breadth of inflationary pressures eased only marginally, and that the BoE will remain concerned that wages are rising too quickly to meet its inflation target.BNPP say:
The improvement in June's UK inflation data is less impressive than it appears at face value, and we still think the Bank of England will raise rates by 50bp at the Monetary Policy Committee meeting in August.
Signs of easing inflationary pressures should take some of the pressure off the MPC, but one downside surprise does not negate the previous string of upside surprises.
We still see the BoE reaching a terminal rate of 5.75% in September.
Updated at 16.09 BSTNIESR, the economic thinktank, have warned that we have yet to see a significant movement in underlying inflationary pressures in the UK economy.Paula Bejarano Carbo, associate economist at NIESR, explains:
"Annual CPI inflation rose by 7.9 per cent in June, down from 8.7 per cent in May, driven by falling prices for motor fuel which was partially offset by rising prices in food.
Measures of underlying inflation also eased slightly in June: for example, core CPI and services inflation both fell from 31-year highs of 7.1% and 7.4%, to 6.9% and 7.2%, respectively.
Though these are all welcome falls, it remains concerning that these measures of underlying inflationary pressures continue to plateau around 7%, well above the Bank of England's target of 2%."
The pound is losing more ground against the US dollar as the afternoon moves along.Sterling is now down 1.5 cents, or 1.2%, at $1.2883, as traders reassess how high UK interest rates will need to go to bring down inflation.Britain's banks too slow in passing higher interest rates to savers, says watchdogUK financial regulators have told MPs that Britain's banks are not passing on higher interest rates to savers fast enough.Financial Conduct Authority chief executive Nikhil Rathi told parliament's Treasury Select Committee that:
"The pace has simply not been fast enough,"
Challenged about some of the "poor" rates available on easy access accounts from major banks, Rathi said there is a "long-standing" position that customers get the best rates from the building societies.Digital and challenger banks tend to be close behind, while high street banks offer the poorest rates, he said.The FCA isn't a price regulator, Rathi points out.But it does expect savings rates to improve as a new duty forcing banks to provide good outcomes for consumers comes into force.FTSE 100 on track for best day of 2023Britain's blue-chip share index is on track for its best day of the year, as the fall in UK inflation in June boosts confidence in the City.The FTSE 100 index is now up 151 points, or 2%, at 7606 points – a one-month high.That would be its best day since last October.Hopes that UK interest rates will peak below 6% are spurring a strong rally in housebuilders, with Persimmon (+9.5%), Taylor Wimpey (+6.6%) and Barratt Development (+6.5%) in the top risers.🇬🇧 UK REAL ESTATE INDEX UP 5.2%, SET FOR BIGGEST ONE-DAY JUMP SINCE FEBRUARY 📈🇬🇧 UK HOMEBUILDERS INDEX SET FOR BIGGEST ONE-DAY GAIN SINCE NOVEMBER 2008, LAST UP 6.6% 📈— FMN - FastMarketNews () July 19, 2023The money markets now believe the Bank of England is more likely to raise interest rates by a quarter-point next month, rather than by half a point as previously expected.Looking further ahead, rates are expected to peak around 5.75%, rather than over 6%.A whole repricing of UK interest rate expectations takes place as short-end Gilts rally following soft UK CPI figures. Markets now pricing +0.28% increase on Aug 3rd vs +0.44% yesterday. Terminal rate now seen reaching 5.8% compared to an expectation of nearer to 6.25% yesterday.— Saxo UK () July 19, 2023UK government bonds continue to rally (see earlier post), pulling down the yields used to price fixed-rate mortgages.The drop in UK inflation to 7.9%, from 8.7%, has also sparked a strong rally in the UK-focused FTSE 250 index.The FTSE 250, which contains smaller companies, is up 3.59%, its strongest day since February.Investors are hoping that UK inflation has peaked, and will fall back towards levels seen in other major economies.Danni Hewson, head of financial analysis at AJ Bell, says:
A further decline in inflation for July could really get the ball rolling for UK equities and lift them out of the mud. While the FTSE 250 is in party mode today, the rally only puts the index back to levels last seen in June.
"Housebuilders had been heavily sold off due to fears a sharp rise in interest rates would destabilise the housing market. While that's certainly in motion, with plenty of people struggling with higher mortgage rates and a slowdown in property transactions, the valuations of housebuilders were effectively pricing in a deep rut.
Today's inflation news has spurred investors with an appetite for risk to go fishing for bargains in the space in the hope that property market won't experience a severe collapse."
Updated at 15.12 BSTLarry Elliott: Rishi Sunak's inflation targets no longer seem so hard to hitLarry ElliottRishi Sunak and Jeremy Hunt will be breathing a big sigh of relief at the latest inflation figures, our economics editor Larry Elliott writes.On the face of it, there is not a great deal to crow about. At 7.9%, the annual increase in the cost of living as measured by the consumer prices index is still running at four times the government's 2% target.But for the first time in a while, inflation has come in below the level expected by the financial markets. That goes for headline inflation and core inflation, the measure that excludes volatile items such as food and fuel, and which came down from 7.1% to 6.9% in June. The City had thought headline inflation would drop to 8.2% and that core would remain unchanged.Inflation in the service sector also fell last month, from 7.4% to 7.2%. That is significant not only since services make up about four-fifths of the economy's total output but also because what is happening to the price of services is seen by economists as a guide to inflation generated by the domestic economy.More here.Macquarie takes further control of Britain's gas networkAustralia's Macquarie Group has tightened its grip on the UK's energy sector today.National Grid has sold a further 20% stake in its UK gas transmission and metering business to a consortium led by Macquarie Asset Management.The sale is on the equivalent financial terms to the previous sale of 60% of National Gas to the Macquarie-led group, which was completed in January 2023Martin Bradley, European head of infrastructure real assets at Macquarie, said the deal "underlines our commitment to National Gas and the critical role it plays in the UK's energy system".Bradley added that Macquarie aspires to acquire the rest of National Gas "in due course".National Grid plans to use the £700m proceeds for general corporate purposes including repaying its debt.Macquarie already owns a string of UK infrastructure assets including Southern Water, and in May it posted record profits after a boom in its commodities trading division. No wonder it's been dubbed the "millionaire's factory", thanks to its bumper payouts to senior staff.Macquarie's has deep ties to the UK, having been created as a subsidiary to the British merchant bank Hill Samuel & Co in 1969.It has faced criticism over its ownership of Thames Water, which was steadily loaded up with debt before Macquarie sold its final stake in the water operator in 2017,Nation's savings 'may have lost as much as £113bn over past year in real terms'Soaring inflation, and the banking sector's tardiness in raising savings rates, could have wiped up to £113bn off the nation's savings over the past year in real terms, analysis suggests.PA Media has the details:
The analysis by investment platform AJ Bell was released after Office for National Statistics (ONS) said the Consumer Prices Index (CPI) eased to 7.9% last month, down from 8.7% in May and its lowest rate since March 2022.
Laura Suter, head of personal finance at AJ Bell, said: "Even though inflation has fallen today, savers are still being pummelled by high inflation and lower returns on savings.
"Although interest rates have risen considerably over the past year and a half, savers still lost money in real terms thanks to double-digit inflation for much of that period.
"Over the past year the average saver with £1,000 in an easy-access account will find it's now worth £938 in real terms, having got an average of 1.18% interest over that period. The top-rate easy-access accounts would have paid more over that time, but nowhere near current inflation of 7.9%.
"Based on the £1.81 trillion that Brits have in savings accounts, it means the nation's savings could have collectively lost as much as £113 billion over the past year in real terms, based on current inflation and assuming savings were earning the average easy-access rate.
"Although some of that money will have been in fixed-rate accounts earning higher interest, a large proportion will also have been in accounts earning zero or minimal interest.
"We know that £250 billion of savers' money is sitting in accounts earning no interest, with that money alone losing £18 billion in real terms."
Source:
The Guardian
Powered by NewsAPI.org