County cricket: Yorkshire v Sussex, Essex v Kent, and more – live
- 14 minutes read
---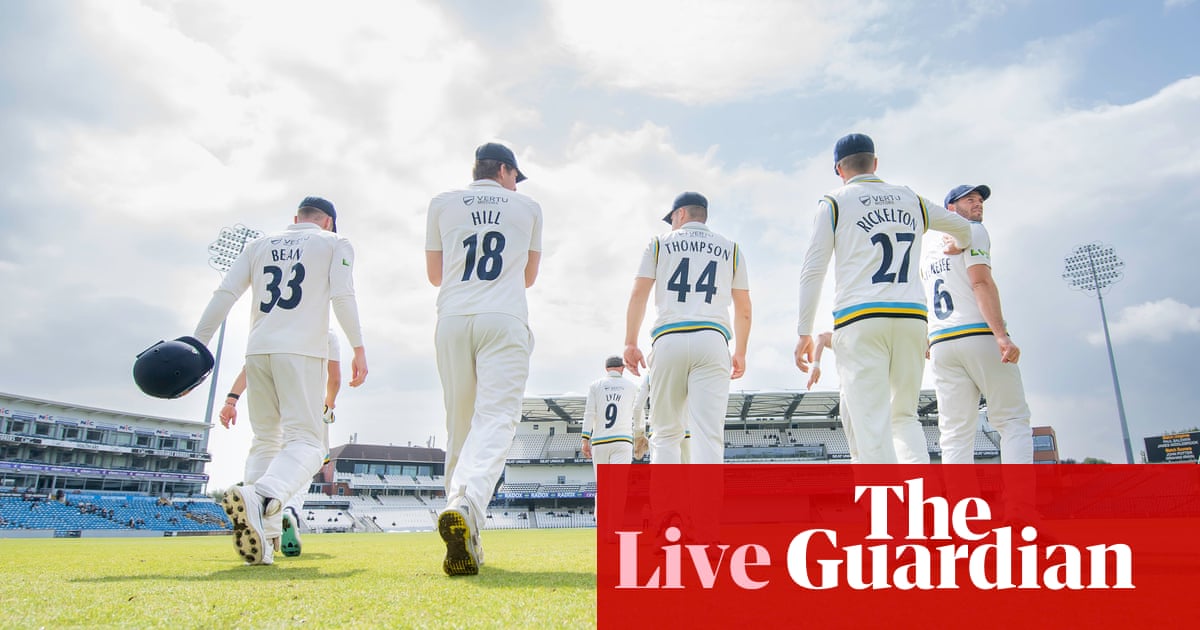 A (soggy) Day Four Round UpJames WallaceFeverish checking and re-checking of weather apps was the order of the day across the land on Saturday. Old Trafford may have been the epicentre for the most fevered refreshing what with England's Ashes hopes hanging as delicately and precariously as a cobweb in a monsoon, but they were scouring the screens and the skies across the shires too.In Essex and North London the rain held off just long enough to see results at both Chelmsford and Lord's. Under leaden skies Surrey beat Middlesex by eight wickets, Sean Abbot needing only two deliveries to prise out Tim Murtagh - the home side's last man. An accurately speared short ball forced the veteran seamer to fend and flinch like a man poking at a wasp nest with a broom handle and only resulted in a looped edge to Dom Sibley in the slips. Rory Burns' side required only 78 runs to win and despite Jamie Smith and the captain himself perishing in the early overs the top of the Division One table side ran out winners by 8 wickets. The result saw Surrey chalk up their first First Class win at Lord's in 26 years.Across to the east, the clouds were high enough to see Essex beat Kent by seven wickets. Sam Cook had Hamidullah Qadri snaffled by Simon Harmer at leg-slip and then skittled Matt Quinn to leave Kent nine down. Harmer himself then finished the job by pinning Joey Evison lbw to return figures of 4-72 off a mammoth spell of 44 overs that included seventeen maidens.With Essex needing just 30 runs to win, Alastair Cook donned his tracksuit as Dan Lawrence strapped on the pads and headed out to open the batting. Lawrence bunted a four and reverse-swept for a single before holing out in the deep to Grant Stewart for five. Qadri pulled off a spectacular caught and bowled to pocket Matt Critchley after trapping Adam Rossington lbw but couldn't pull off the hat-trick or the miracle Kent needed.Elsewhere it was sou'westers and soggy handshakes all round with Warwickshire and Lancashire, Derbyshire and Durham and Yorkshire and Sussex all succumbing to the rains and calling it quits after no play at all. After six draws in their last nine games, the white rose of Yorkshire might feel particularly droopy as they see their chances of promotion fade away.Finally, there was no action possible on day three between Gloucestershire and Glamorgan, another day of doom scrolling the weather apps looms for those at the Cheltenham Festival.Updated at 17.28 BST
Key eventsShow key events onlyPlease turn on JavaScript to use this featureJames WallaceThanks for your company and comments on this truncated day. I'm going to knock this County Blog 'umanely on the 'ead and take my eyes over to events at Old Trafford where they are playing and England need wickets. Have a lovely afternoon, keep dry!A (soggy) Day Four Round UpJames WallaceFeverish checking and re-checking of weather apps was the order of the day across the land on Saturday. Old Trafford may have been the epicentre for the most fevered refreshing what with England's Ashes hopes hanging as delicately and precariously as a cobweb in a monsoon, but they were scouring the screens and the skies across the shires too.In Essex and North London the rain held off just long enough to see results at both Chelmsford and Lord's. Under leaden skies Surrey beat Middlesex by eight wickets, Sean Abbot needing only two deliveries to prise out Tim Murtagh - the home side's last man. An accurately speared short ball forced the veteran seamer to fend and flinch like a man poking at a wasp nest with a broom handle and only resulted in a looped edge to Dom Sibley in the slips. Rory Burns' side required only 78 runs to win and despite Jamie Smith and the captain himself perishing in the early overs the top of the Division One table side ran out winners by 8 wickets. The result saw Surrey chalk up their first First Class win at Lord's in 26 years.Across to the east, the clouds were high enough to see Essex beat Kent by seven wickets. Sam Cook had Hamidullah Qadri snaffled by Simon Harmer at leg-slip and then skittled Matt Quinn to leave Kent nine down. Harmer himself then finished the job by pinning Joey Evison lbw to return figures of 4-72 off a mammoth spell of 44 overs that included seventeen maidens.With Essex needing just 30 runs to win, Alastair Cook donned his tracksuit as Dan Lawrence strapped on the pads and headed out to open the batting. Lawrence bunted a four and reverse-swept for a single before holing out in the deep to Grant Stewart for five. Qadri pulled off a spectacular caught and bowled to pocket Matt Critchley after trapping Adam Rossington lbw but couldn't pull off the hat-trick or the miracle Kent needed.Elsewhere it was sou'westers and soggy handshakes all round with Warwickshire and Lancashire, Derbyshire and Durham and Yorkshire and Sussex all succumbing to the rains and calling it quits after no play at all. After six draws in their last nine games, the white rose of Yorkshire might feel particularly droopy as they see their chances of promotion fade away.Finally, there was no action possible on day three between Gloucestershire and Glamorgan, another day of doom scrolling the weather apps looms for those at the Cheltenham Festival.Updated at 17.28 BSTGah. Well as we feared/expected the rain has done it's damage and it is a Saturday washout. I'm off to write up the brief action we did have for tomorrow's paper but feel free to keep it alive BTL for a little while longer.It's a washout!RESULT: Warwickshire v Lancashire - MATCH DRAWNSame goes in Birmingham, too wet at Edgbaston and the game is washed out on the final day.𝗗𝗿𝗮𝘄 🤝The weather forces an early finish. Bears take seven points from the contest.🐻
#YouBears
|
#WARvLAN
— Warwickshire CCC 🏏 () July 22, 2023
As the rain continues to fall – this catch from Hamidullah Qadri from earlier this morning is a belter and well worth a watch:RESULT: Derbyshire v Durham - MATCH DRAWNThey've called it in Derby too. Boooo!Updated at 13.37 BSTRESULT: Yorkshire v Sussex - MATCH DRAWNThey've shaken soggy hands at Headingley. Yorkshire chalk up their sixth draw in nine games – taking 11 points from this match to Sussex's 7. The White Rose might rue those lost points come the end of the season.Updated at 13.11 BSTWith Essex and Surrey both winning there's not much change at the top of the table in Division One. After ten rounds of the County Champo Rory Burns' side sit at the top with 161 points and Tom Westley's Essex are yapping at their heels on 147 points.There's hope in Manchester!Old Trafford groundstaff now on the field ... still a light mizzle out there but looks like they believe the gap in rain that's incoming and are about to start some pre-moppage moppage— Ali Martin () July 22, 2023
I'm hearing news of a "weather break" at Old Trafford this afternoon. One to keep an eye on.Across the shires it is still raining at the moment, do keep chatting below the line and shout if there are signs of improvement near you.Oh go on then:After that flurry of results I'm off to brew some coffee and stretch my own legs in a less aggressive manner. Back soon.RESULT: Surrey BEAT Middlesex by 8 wicketsOne brings two… Surrey take the spoils comfortably in the London derby. Some stat that – it is the first victory for the Three Feathers at Lord's in First Class cricket in 26 long years. Remember Pierce Brosnan and that volcanic lava smouldering in Dante's Peak? Remember Richard Ashcroft not giving an… inch on a busy East London pavement in the video to Bittersweet Symphony??1997 is a long time ago.BIG SIX ALERT!Tom Latham isn't for hanging about at HQ. I heard that one from here. Ping.RESULT: Essex BEAT Kent by 7 wicketsEssex get the job done in Cheltenham, a resounding win and a good team performance makes it four wins on the bounce for Tom Westley's side.Surrey are closing in on victory at Lord's. Will Jacks has rattled along to 42 runs off 33 balls and Tom Latham has serenely progressed to 18. Just six runs needed for the South-London side.Paul Walter survives the hat-trick ball from Qadri. Still, decent spirit shown from Kent at the last.Dan Lawrence smashed his first ball, and the first of the innings from Qadri, for a searing four all along the baize to the boundary down the ground. Ah. He's now out caught for five off Grant Stewart.Adam Rossington goes too! The Essex opener tries a third reverse-sweep of his short innings but misses and is hit in front of all three. Well now – Hamidullah Qadri is on a hat-trick! Matt Critchley tries to smear his first ball away over the leg-side for a maximum but cloth'd it in the air, Qadri sprinting and swallow diving to pull off a truly magnificent caught and bowled!Updated at 11.52 BSTRory Burns has perished at Lord's, the lush haired left-hander playing a Suryakumar Yadav inspired scoop from way outside off stump but not quite nailing it and Tim Murtagh rolling back the years to take a fine tumbling catch that earnt a ripple of applause from the Middlesex faithful.Look away now Kent fans… Essex on the rampage at Chelmsford – three quick wickets mean the home side will chase 30 runs to chalk up victory!Sam Cook removed Qadri, well caught by Simon Harmer at leg-slip and then skittled Matt Quinn to leave Kent nine down. Harmer then finished the job by pinning Joey Evison lbw.Oooh, Dan Lawrence is coming out to open the batting for Essex. Sir Ali Cook evidently putting his feet up for the teensy chase.Updated at 11.39 BSTMiddlesex get their first one! Jamie Smith, who batted so beautifully for his 138 in the first innings, plays something of a careless waft straight to Sam Robson at short mid-wicket. Dare to dream in North London? Perhaps not - Surrey need just 52 more.Updated at 11.27 BSTVery much the mood all over the country today:"*Live cricket klaxon* Essex v Kent" writes VirgilHilts BTL. Essex are looking to prise out three more wickets to set up a small victory chase. Joey Evison and Hamidullah Qadri are clinging on for the time being – Kent are 29 runs to the good.Hold on to your Sou'wester! There's play at Lord's!And Surrey are on a race against the rain to rack up the win. Abbott has just got rid of Tim Murtagh with the second ball of the day and Surrey come out under leaden skies needing 78 runs to win! Rain forecast in North-West London in the next hour or so…Updated at 11.11 BSTIf batting is more your thing then have a gander at this knock from Harry Finch:Also, check out the turn on this delivery from Mitch Swepson. The reaction from Charlesworth says it all:Listen up tweakers:"Is there any prospect of any cricket at all, anywhere, today?" Asks Dr Cozzer. Right well, from my scouring of the weather apps it looks to be bad news all round at the moment but maybe there's a glimmer of hope in a few spots later on?If you are out there and can see the hope of wet stuff relenting then get in touch and we'll train all our focus there, sound ok?Scores (and results) On The Doors:DIVISION ONEChelmsford: Essex 458-8dec v Kent 207 and 265-7Lord's: Middlesex 238 and 272-9 v Surrey 433Edgbaston: Warwickshire 212 v Lancashire 327 and 182-6RESULTSThe County Ground: Somerset 351 and 56-1 BEAT Northamptonshire 180 and 224 by nine wicketsTrent Bridge: Hampshire 166 and 344-5dec BEAT Nottinghamshire 100 and 294 BY 116 RUNSDIVISION TWODerby: Derbyshire 443 and 89-0 v Durham 575Headingley: Yorkshire 364-8dec v Sussex 216 and 236-7Day one: Cheltenham: Gloucestershire 134-1 v Glamorgan 450-6decRESULTOakham: Worcestershire 178 and 169 BEAT Leicestershire 110 and 137 BY 100 RUNSHere's something for you to read with your morning err eggs. Barney Ronay on Ian 'Beefy' Botham's latest missive. Food for thought, especially for Durham you'd think…
Which is all fine and evidence, in the most entertaining sense, of the enduring question: why would anyone care what Ian Botham says? How could it matter? This is simply Beefy, the pirate king, a maverick who doesn't live by "the rules", who says that's what I think of your selection policy, that's what I think of your independent, highly detailed report into racism in cricket. It is, despite the best efforts of the bridleway-blocking BBC bubble, still a free country.
All of this probably explains why Botham's surprisingly angry verdict on the Independent Commission for Equity in Cricket's recent bombshell report passed without a great deal of comment this week. Botham, who tells it like it is, was speaking on the Up Front podcast to Simon Jordan, who, in similar vein, tells it like it pertains indubitably to exist in a state of current beingness.
The key takeaway was that Botham is absolutely furious about the carefully sourced, highly detailed independent report, which found "deeply rooted and widespread forms of structural and institutional racism, sexism and class-based discrimination", which confirmed emphatically the findings of the England and Wales Cricket Board's first such report as long ago as 1997, which reflected exactly the separate testimony of people at all levels over the last three years of heightened attention. But which is, in Botham's opinion, "nonsense" plus "a complete and utter waste of money" that has "definitely got it wrong"; a state of unshakable certainty he reached by reading "bits of it" before "throwing it on the floor".
Before we wade (ahem) into today let's take a look at Tanya's roundup of yesterday's action to see where thing stand:Henry helps Somerset swat aside NorthantsA contented hum rose and fell at Cheltenham, much as the seagulls eyeing up the college pitch circled before bombing down in search of a crumb. Despite the coal-dust cloud that threatened just before 11 o'clock, play was undisturbed all day as Glamorgan dashed to 450 before declaring. A typically stylish 76 from Kiran Carlson, which included a six that bounced off the pavilion spire, was complemented by a beautifully timed 98 from Billy Root and 86 from Chris Cooke.With a deluge promised on Saturday, all Gloucestershire had to do was not collapse, and Chris Dent and Ollie Price duly played sensibly till stumps. It was all music to the two little boys playing cricket in a makeshift net as Benny the labrador, the first Gloucestershire member with a wet nose and fluffy tail, queued up for a free ice-cream from the van.Somerset completed a good week's work by polishing off Northamptonshire by lunchtime. Matt Henry, hero of Saturday's Blast final, finished with five wickets. Hampshire notched up their fifth Championship victory of the year, over Nottinghamshire, despite a busy 81 from Tom Moores.In Division Two it took Worcestershire only 25 minutes to grab the three wickets they needed to defeat Leicestershire. Josh Tongue's five for 29 were his best figures of the summer. The main drama came when Leicestershire announced they would ask the ECB to look into taking disciplinary action against Worcestershire, saying they erroneously claimed the catch of Colin Ackermann on Thursday afternoon, despite "clear evidence" that the catcher grounded the ball.Elsewhere, Kent's Harry Finch batted for five hours for 114 to keep Essex at bay; Keaton Jennings's careful 64 helped Lancashire to a sizeable lead at Edgbaston; half centuries for Matthew Potts and Brydon Carse took Durham to maximum batting points for the fifth time on a dreamboat batting pitch at The County Ground, Derby. Middlesex were forced to follow on at Lord's; Sussex resisted at Headingley.PreambleJames WallaceHello and welcome to the Guardian's Weather Watch County Cricket Blog. James Wallace here with you today taking the reins from the inimitable Tanya Aldred as she hotfoots it back to Old Trafford from Cheltenham to cover The Men's Ashes… or more likely the biblical rainfall.It's due to be wet wet wet all over the UK but we might get some pockets of action around and about, here's hoping. Do let us know how it is looking near you in the comments. I'm currently slap bang in the middle of the Peak District after pootling out of Manchester on the rattler last night, I can confirm it is currently sloshing it down. Time for a coffee and a peruse around the grounds at the current state of play.Updated at 10.20 BST
Source:
The Guardian
Powered by NewsAPI.org