Worcestershire v Durham, Lancashire v Warwickshire: county cricket – live!
- 5 minutes read
---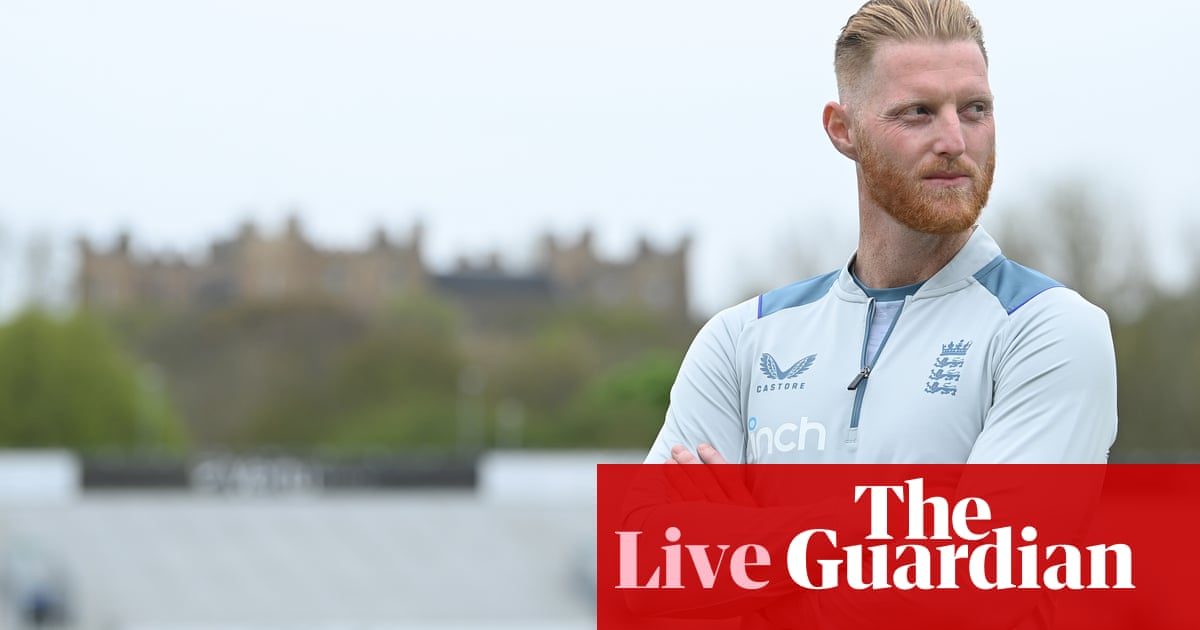 Round the Division One grounds, what can we see? Ben Foakes chips Tom Taylor behind for 16; Surrey 139-4. Burns is still there on 73, he and Sibley scoring at almost exactly the same speed. At Old Trafford, Warwicks 166-4, Sibley 76 as he pushes a four down the ground. Hampshire rocking along, 180-2, Organ 80, James Vince 59. Slow and steady from Essex, 138-2, Alastair Cook 62 not out, Walter not out 43.
The ECB's independent Cricket Discipline Commission Panel has imposed a £50,000 fine on Essex CCC after the club pleaded guilty to two charges in relation to a racist comment made in 2017 at an Essex CCC Executive Board meeting. Essex have also been cautioned about urther conduct and given a reprimand. £15,000 of the fine is suspended for two years.
Essex were charged with a breach of ECB Directive 3.3 which reads as follows:
"No Participant may conduct themself in a manner or do any act or omission at any time which may be prejudicial to the interests of cricket or which may bring the ECB, the game of cricket or any Cricketer or group of Cricketers into disrepute." The charge was in two parts - relating to the comment made at the meeting, and the subsequent failure by Essex CCC to conduct an appropriate, or any, subsequent investigation. The CDC Panel was chaired by Ricky Needham, alongside Amrisha Parathalingam and Mark Milliken-Smith QC.
A lovely moment at New Road as Ben Gibbon, the 21-year-old left-armer on debut, snares his maiden first-class wicket and that of a Test player too. Keegan Petersen had just brought up his half-century from 116 balls and looked every bit the international on show, playing some lovely crisp drives in the V among his eight fours. But Gibbon teased the error with a ball that angled across the right-hander, might have been left alone but was instead feathered behind. It brings Scott Borthwick to the crease, with Durham 178 for two in the 55th over and Sean Dickson six runs away from a century...
"After a lunch spent walking around the ground and perusing the book sale round the back of the Basil D'Oliveira Stand (there's premium on the 2015 Wisden, the only edition to have a Worcestershire player on it's cover) it's back to watching the South African pair of Sean Dickson and Keegan Petersen continue what has been a promising start for Durham. Dickson brought up his half-century from 89 balls before the break and has moved to 61 with his latest crisp four clipped through mid-wicket, while Petersen, a lovely compact right-hander with sound judgement outside off stump has moved to ... and as I type that he's just squirted four through vacant third slip to reach 25. Durham 115 for one from 35 overs and it's hard work out there for the bowlers.
Ben update, although not Stokes: Worcestershire have handed a first-class debut to Ben Gibbon, a wiry left-armer who signed for the club at the end of last summer and has impressed in the second team. The 21-year-old was previously working on a construction site while playing club cricket in Cheshire. "It is hard graft, and I'm happy not to have to do it anymore," he said at the time of signing his professional contract, perhaps not realising how flat the pitches at New Road can be. He has made a bright start but no breakthrough so far, the Durham opening pair of Alex Lees and Sean Dickson moving to 31 for no loss after 10 overs.
Greetings from Worcester, where it's a lovely sunny spring morning and the mercury could hit 21C this afternoon if the forecast is correct. Durham have travelled down from Winterfell, with the new England Test captain among them as they warm-up in front of the rickety old press box. This will be a first County Championship appearance for Ben Stokes since he played two days last summer and then answered England's SOS call to captain the ODI team against Pakistan. Before that he made solitary outings in 2018 and 2017. It feels like a day-night match personally, having been woken up at the crack of dawn by the toddler in what has become a regular occurrence of late. Any tips to get her back to 7am starts welcome. Aha, toss time ... Scott Borthwick has won it and Durham are batting.
Good morning! May is flourishing, the hawthorn is in bursting out its britches, and I'd like it to stay like this forever. Five matches into an 18-round season, we're already nearly a third of the way through. Since the unveiling of Ben Stokes as England captain last week, he's been busy. A press conference at The Riverside on Monday, and now he's playing his first Championship game of the year for Durham, against Worcestershire. Ali has just arrived at New Road and will be sending us regular updates (won't you Ali). Elsewhere in Division Two, Glamorgan, fresh from their valiant run-chase, take on bottom-of-the-table Leicestershire; and it looks at pretty uneven contest at Hove where mighty Middlesex charge down minnows Sussex. It's champions elect against the reigning champions at Old Trafford, top of the table Surrey v battling Northants at The Oval, Essex host Yorkshire, done out of a probable win by bad light on Sunday, and struggling Gloucestershire at the Rose Bowl. There are just seven games this week, with Kent, Somerset, Notts and Derby missing out.
Source:
The Guardian
Powered by NewsAPI.org