Carlos Alcaraz beats Novak Djokovic to win Wimbledon title in final for the ages
- 5 minutes read
---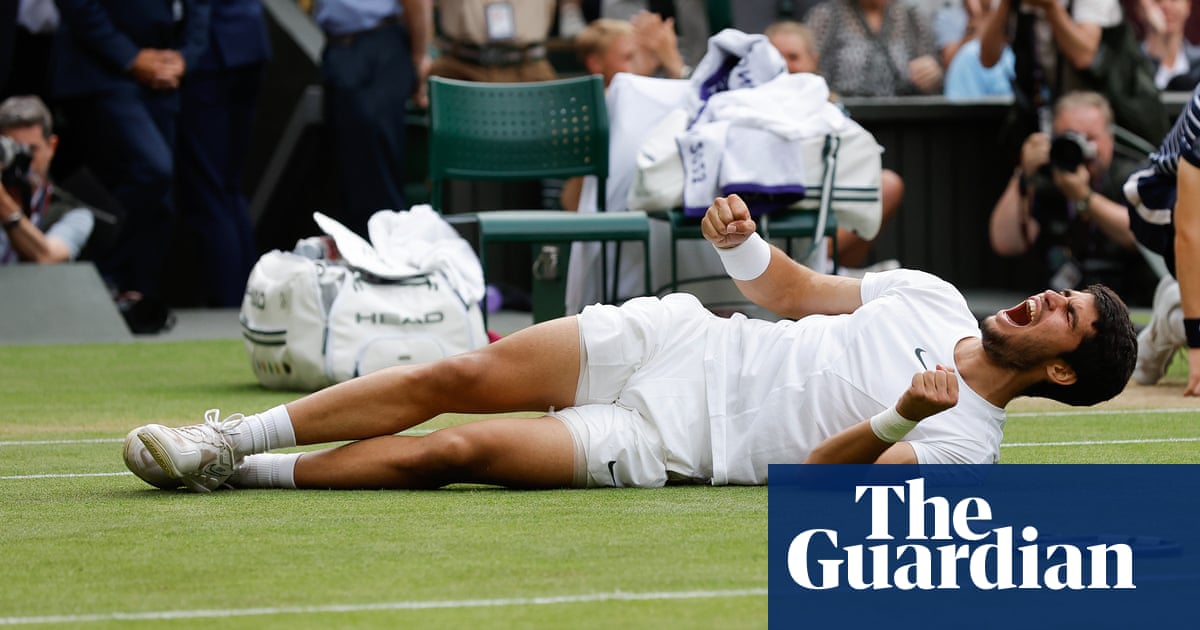 Over the past few years of men's tennis, as his great rivals have retreated from view, Novak Djokovic has spent his time destroying the hopes and dreams of nearly all younger challengers at the major tournaments. Not only has he continued to hold off the next generation, but he has relished his supremacy over them.
It has been clear for a long time, though, that Carlos Alcaraz is just different. He is different both in terms of his peerless on-court talents and the supreme mental strength that underpins his success. A month after his body crumbled under the sheer tension of facing Djokovic at the French Open, Alcaraz recovered from a set deficit to perform at a remarkable level across five sets as the No 1 seed toppled Djokovic 1-6, 7-6 (6), 6-1, 3-6, 6-4 to win his first Wimbledon title.
It was an astonishing match and performance, a victory that required every immeasurable self-belief and sustained shot-making of the highest quality from Alcaraz while playing at a level of intensity that he has never experienced across five sets.
"It's great to win but even if I had lost, I would be really proud of myself with this amazing run, making history in this beautiful tournament, playing a final against a legend of our sport," Alcaraz said. "It's incredible, it's a dream come true, to be able to play in these stages. It's amazing, for a boy of 20 years old, I didn't expect to reach this kind of situation really fast. I am really, really proud of myself."
Alcaraz's career was already clearly on a trajectory that few 20‑year‑olds have matched, yet the top seed's performance at Wimbledon has somehow outpaced all of the deafening hype. His ability to learn, adapt and improve is startling. Less than four weeks ago, Alcaraz began the grass-court season just trying to figure out how to play tennis on the surface without being so preoccupied by his balance and movement. He nearly lost at Queen's Club against the No 83 Arthur Rinderknech.
Novak Djokovic was emotional in his post-match interview. Photograph: Clive Brunskill/Getty Images
Since then, he has blitzed the entire field, learning with every match as he has established a 12-match winning run across Queen's Club and Wimbledon. Alcaraz is the first player to beat Djokovic on Centre Court in a full decade, since Andy Murray in the 2013 final. "I have fallen in love with grass right now," Alcaraz said.
At 20, he is the third youngest player to win the Wimbledon men's singles title, behind only Boris Becker and Björn Borg. His second grand slam title means he is the first new male player to win multiple major titles since Stan Wawrinka in 2015. By halting Djokovic's four-year dominance at Wimbledon, he has denied the 36-year-old the chance of equalling Roger Federer's record of eight Wimbledon titles.
"I guess when all the emotions are settled, I have to still be very grateful because I won many, many tight and close matches in the past years," Djokovic said. "To name a few, in the 2019 final against Roger, when I was match points down. Maybe I should have lost a couple of finals that I won. I think this is even-steven."
In the early stages, it seemed that experience might triumph as Djokovic, the second seed, smothered Alcaraz with his incessant depth and retrieval skills. After just 27 minutes, Djokovic led 5-0 before he quickly closed out the set. But Alcaraz slowly began to find his range and the intensity skyrocketed in an incredible second set as they tussled in high‑octane rallies, Alcaraz forcing as Djokovic countered, with two of the best athletes in the game covering every blade of grass.
Alcaraz gave the first indication of his mood in the second-set tie‑break. As he served well and attacked without hesitation, it was Djokovic who blinked with messy unforced errors. On set point, Alcaraz slotted a sweet backhand return winner past Djokovic before soaking up the crowd's applause.
With a set secured, the Spanish player's game truly began to flow. He suddenly found more free points on his serve, and more nuclear forehands failed to come back. He marched through the set, winning an exhausting 26-minute game at 3-1 with 13 deuces and seven break points, which ended in Alcaraz breaking Djokovic's serve to secure a decisive double break.
As expected, Djokovic responded with some of his best returning of the match in set four, breaking serve to take a 3-2 lead before blowing a kiss towards the crowd. Energised and alert, he forced a fifth set.
Novak Djokovic smashed a racket on a net post after being broken. Photograph: Tolga Akmen/EPA
Staring down the best player of all time in a fifth set, Alcaraz refused to cower. After missing a break point in the opening game, he immediately saved one himself with his outrageous, last-ditch defence that forced a drive volley error from Djokovic. As the intensity rose again, a breathless exchange at break point on Djokovic's serve ended with the Serb falling down, rising again and then watching as Alcaraz nailed a backhand down-the-line passing shot winner to break. While Alcaraz celebrated snatching a 2-1 lead, Djokovic cracked his racket on the net post.
Against the best returner of all time, famed for his ability to recover from any deficit, Alcaraz kept moving forward. He found big serves and enormous forehands whenever he needed them. Then he lined up to the baseline at 5-4 without any hint of fear or nerves, and in a stunning game that included a bold drop shot and a lunging volley winner, Alcaraz served out the match of his life.
Source:
The Guardian
Powered by NewsAPI.org