Miami All-American S Kamren Kinchens seriously hurt vs. Texas A&M
- 2 minutes read
---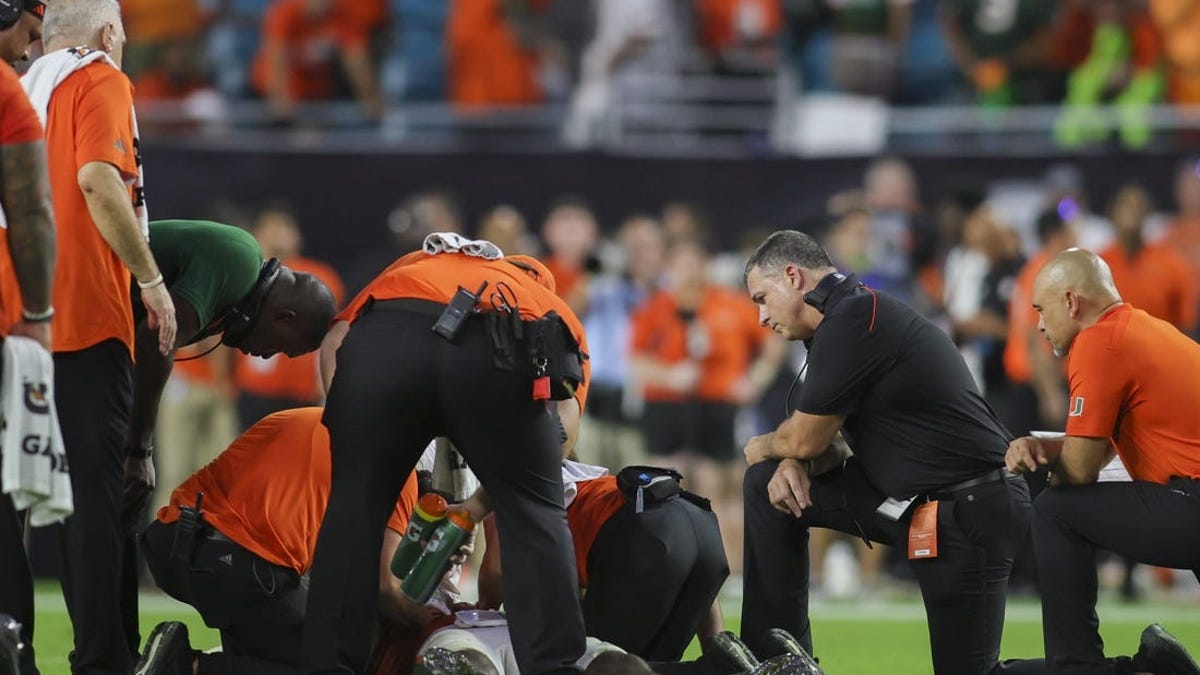 Miami All-American safety Kamren Kinchens was taken off the field via stretcher on Saturday and airlifted to a nearby trauma center after sustaining a serious injury during a 48-33 home victory over No. 23 Texas A&M.
Kinchens collided with Aggies receiver Ainias Smith after a 20-yard completion with just under two minutes left in the game and fell down to the turf. He was attended to for nearly 10 minutes before being removed from the field and taken to Ryder Trauma Center in Miami.
The school hasn't yet revealed the nature of Kinchens' injury.
"So far, the reports that we have on (Kinchens) are that everything seem to be relatively normal, so I'm going to head over there right after I get done with the press conference and see how he's doing," Hurricanes coach Mario Cristobal said in his postgame press conference. "I think we're going to be fine. Obviously, aside from that, it's hard to talk about the game when something like that happens, but the guys played really hard."
Kinchens had seven tackles and an interception during the victory.
Last season as a sophomore, Kinchens earned first-team All-American honors while grabbing six interceptions. He also was first-team All-Atlantic Coast Conference.
Kinchens earned first-team preseason All-American honors prior to this season and is one of the team leaders.
"That's as hard as it gets," Cristobal said of Kinchens being down on the field. "You've got parents in the stands, teammates. Football is unforgiving at times. I don't think that's the case here. I'm very hopeful. I don't like to get ahead of myself, but I like to think positive and think everything is trending in the right direction, and we'll get an update to everybody as soon as we get it."
Kinchens is projected as a first-round pick in the 2024 draft if he opts to leave school after the season.
"Hopefully he's OK," Miami quarterback Tyler Van Dyke said. "Prayers up for Kam. He's the heart and soul of this program. He really is ... He's the heart and soul, like I said, main leader of the team, brings it every day in practice, makes us work, so hopefully he's OK."
—Field Level Media
Source:
Deadspin
Powered by NewsAPI.org